Welcome
Nature Trail
Opened to the public in May of 2004, the Discovery Nature Trail is part of a 319 acre preserve owned by Magens Bay Authority, VI Department of Planning & Nature Resources, and The Nature Conservancy. The trailhead is located is off Magens Bay Road at Canaan.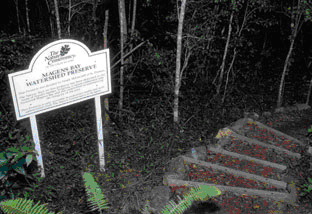 © Jonathan Kerr
Winding 1 ½ miles down to Magens Bay beach, the trail goes through multiple ecosystems – starting in a mixed-dry forest, moving into moist-tropical forest, then across a boardwalk passing through mangroves, and finally arriving at the picturesque beach. Near the top of the trail there is a wooden platform overlooking Magens Bay and is an excellent place to observe several of the bird species that are found in the preserve.
Frank McConnell donated 25 acres to The Nature Conservancy in hopes that St. Thomians and tourists would someday be able to enjoy an undeveloped area on St. Thomas. The trail is dedicated to McConnell's mother Virginia.
Hikers may be best served to get dropped off at the top of the trail and hike down rather than start at the beach and hike up – hiking down also provides the reward of Magens Bay beach upon reaching the bottom. Parts of the trail are moderately steep but some steps and hand rails are in place to help. Also, a "self-guided" tour was added that includes signs indicating different plants and aspects of the surrounding environment. For more information on the Discovery Nature Trail at Magens Bay or what The Nature Conservancy is doing in the Virgin Islands call (340)773-5575.